It is no coincidence that 'Malaysia and 'magic' start with the same two letters. Possibly not on the average South African's radar as a holiday destination, it made our week in Langkawi (an archipelago of 99 islands on Malaysia's west coast) that much more special and unique. I can't decide if it was the country itself, the conference and gala evening, the incredible bonding of new friends OR the exploration and stepping out of our comfort zone that made our week so special. I suspect it was a cocktail of all the above, resulting in one word: FUN!
I love my children – don't get me wrong. My life is dedicated to my family. But there was something so heavenly about being able to wake up at 1.30pm, on our first day, without a care in the world. I mean, how often do you get to spend the day beside/ inside the pool with old and new friends and order strawberry dacquiris for breakfast? That first day typified our trip, for me: connection and happy heart.
On day two, twelve of us headed for Paradise island where we gingerly alighted our yellow jet skis. The first few minutes in the choppy ocean were scary as I think Jacques had watched one too many action-packed James Bond movies! Once we all got the hang of our sea motorbikes, we were confident to follow our guide and explore the jewels of the Andaman sea. Highlights included the floating fish farms, a walk through the Geoforest to the Pregnant Maiden lake, watching the theatrics of island monkeys playing in the trees and diving into the water and our swimming altogether at another island stop off. Oh and who can forget the disappearance of Andrew and Paula. Not everyone gets to tell the story of being broken down on a jet ski in the middle of the ocean….
The next day was our Lifestyle Galaxy conference. It was fabulous to finally match the personalities with the photos on Jacque's Facebook. The Langkawi International conference centre was the perfect venue to host 500 of us from different countries. Loved the inspiration from our speakers, loved the direction in which LG is headed. I think I have found my space within LG: Charity! The gala red carpet event was a perfect place to celebrate success and enjoy a great evening of entertainment, friends and food.
It was an early start for most of us on Sunday as time seemed to blur from the party the night before to boarding the transport for our group tour. The sky cab or cable car and oriental tour gave us an epic view point to add to our 'feeling on top of the world'- ness! The sky bridge with glass floor panels took a bit of bravery but was worth the trek up and down the side of the mountain! And yes, it does sway. After a delicious lunch, where the local delicacies in the centre of our tables never stopped coming, we were whisked away on boats down the tributaries of the Mangroves, where we got to watch the Sea Eagles feasting out of the water. To top our day off, we were treated to a VIP sunset cruise on board a catamaran. It really felt like we had stepped into a 'Lifestyles of the Rich and Famous' television segment. Although, what a down-to-earth bunch!
After 24 hours of traveling to get home, plenty of hugs from our children, and a good night's sleep; I have plenty upon which to reflect. My first feeling is absolute gratitude. I love that Lifestyle Galaxy is about people and I will never forget the many people met and conversations had at Charlie's Bar and Grill every evening time. I am so blessed to have traveled on business class and to have stayed at the Westin hotel. I love the fact that I was with my husband and two of my best friends. Thank you so much to our corporate leaders for thoroughly spoiling us. Now is my time to serve you; I have found my place.
PS: David Martin, you owe me a date!
See Jacques Getting his Award!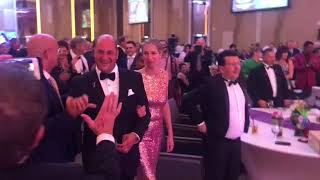 For more videos visit Jacques channel here = YouTube